In veneer logs, one seam is permitted in the quality zone in logs 15 inches (38.1 cm) and larger in scaling diameter if it diverges from a straight line between the long ends no more than one-half inch per foot (1.3 cm per 30.5 cm) of log length. Such a seam constitutes one standard defect. In all veneer logs 8 1/2 feet (2.6 m) long, the seam can be confined to one face. Additional defects in the log must be treated individually.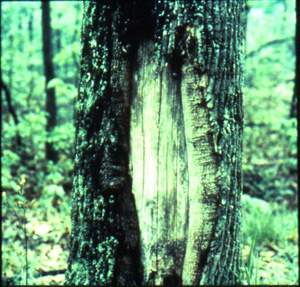 In factory logs, a seam with associated rot or fracture that extends into the log for less than one-fifth of its scaling diameter is ignored as a degrader. If it is deeper, even though log scale is reduced, it is still a degrader because it stops cuttings. If a spiral seam extends into a second face, it degrades the log by reducing the required cuttings on the third face. It is mandatory that three log faces fulfill the cutting requirements for a given log grade.
In construction logs, a seam can be overlooked if it enters the largest contained timber (as measured at the small end of the log) only slightly-one-half inch (1.3 cm). If a sound or unsound seam enters the timber more than one-half inch (1.3 cm), it is a log grade defect that degrades the log or causes it to be rejected.
In standing trees, seams create several problems for the timber cruiser. Depth, straightness, and the amount of splintering or accompanying rot are the major factors that must be considered in estimating the effect on tree quality and the class and grade of the logs obtainable from the tree.