In factory logs, flutes usually are treated in the same manner as veneer logs. Logs that have been dropped from the veneer class because of spiral grain should qualify for factory lumber logs. Where encased bark extends into the right cylinder, each occurrence is treated as both a grading and scaling defect.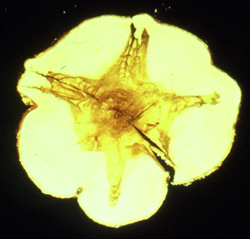 In construction logs, if the encased bark enters the included timber in more than short disconnected streaks of the spiraling results in a slope of grain less than 1 in 12, the log is disqualified for the construction class.
In standing trees, careful examination is made for the two major features associated with flutes. First, the inclusion of ingrown bark is estimated; next, the severity of spiral growth of the flutes, appraised. These two features dictate the assignment of log classes where multiproduct logging is practiced.